How To Achieve Total Experience in Your Enterprise's Digital Transformation
Traditionally, CX, EX, and UX, have been seen as separate, and have been siloed by businesses. Stitching these disciplines together will give you the competitive advantage.
Written by TAFF Inc
25 Jul 2022
According to a Gartner CEO survey of 2021, the top two deciding factors for digital transformation are improving customer experience (CX) and increasing employee productivity by enhancing employee experience (EX). 
With the introduction of Total Experience (TX), CX, EX along with UX are processed under the same umbrella that enhances the complete brand value of the business to all its stakeholders. The survey also mentions that by 2024, companies offering a total experience (TX) will beat the competition by 25% in terms of CX and EX.
Think how Disney grew into a redoubtable global brand! The creators went the extra mile. Besides making stunning movies and creating iconic characters, Disney permeated the mindscape of the audiences through amusement parks and events, thus stitching a firm brand loyalty. 
Today when brands are sharpening their omnichannel experience for achieving the best outcomes, TX can be a strong catalyst. Not only Disney, but other popular brands like Coca-Cola, Dominos, Wayfair and Hilton are pioneers in Total Experience. 
How to achieve a successful Total Experience?
Tearing Down Silos
As mentioned above, the key to achieve total experience is by breaking all the departmental barriers of an organization and bringing all the teams like UX, EX and CX under a single umbrella. This will create a unified approach where all the teams will work together to enhance both the customer and employee experience which are key to a business's success.
Both customers and employees have a higher probability of being satisfied when teams work together under a same principle of composability. Thus, tearing down silos of EX and CX will enable a company to take the initial step towards TX.
Define your strategy to generate value
One of the common mistakes companies make is that they assume business will continue to grow no matter what, and this attitude is what led to a fall of many businesses which were once successful. It is important to evaluate all the metrics of the operations and try to redefine what's required for a better growth. Prepare a list of objectives and prioritize them. The next step is to define a roadmap based on the objectives that you've arrived at. Give life to your roadmap by adding desirable use cases as deliverables and define a timeline. This will ensure both the CX and EX will be improving simultaneously. 
Measure, analyze & learn from your customers
Companies that have understood the importance of existing customers stick to a customer-first approach. A company can learn a lot of things from their existing customers that will help them serve them better in future. When you define the roadmap for TX, you should define who your customers actually are? Analyze your customers and define different sets of personas and their preference or style. To achieve this, you should find answers to these 3 questions first.
What defines my clients?
How does the company acquire clients, what is the exact sales funnel?
What are the things that the company already knows about their customers?
To answer all these questions and to build a customer centric business model, the company should invest in data analytics first. Data analytics will help the business to collect live data on their customers and present them in a useful format for decision makers.
Analyze your touchpoints
Gone are those days when the companies used to focus on single channel marketing like offline, social media or email, etc. Now your customer is present everywhere and omni-channel marketing is the need of the hour. Try to analyze and focus on all touchpoints that your customers find your company be it your website, social media channels, offline advertisements, branches, etc. This will help the company understand the customer path better and create a much better customer experience. 
Search for opportunities throughout the entire customer journey 
Highly successful companies like Amazon, Apple etc don't spend their entire marketing budget in acquiring new customers, instead they invest equally in retaining existing customers. Companies should have a framework in place that will automatically start collecting and analyzing customer data once they make their first purchase. This will give all necessary information to the customers and thus helps the C-Suite to create a better strategy for customers that is both highly customized and delivers superior customer satisfaction. This will lead to a better success rate when it comes to renewal or upselling to existing clients.
Pilot to seek proof, industrialize the proven
"Fortune favours the Brave" – Never be afraid to try out new and innovative things. Try out new but smaller things using proof of concept strategy but have a tested risk management strategy in place. Before testing new things with clients, have a framework in place that will collect all the data on how the customer reacts to this new pilot. If the data collected resonates customer happiness, then work on the pilot and make it a real or if data shows the customer is hesitant to this new thing, then gradually pace it out or redefine it. Remember data is key and one should use it to evolve their decisions rapidly.
Analytics are key – measure, analyze, learn and improve
As mentioned-above, not all new things are warmly accepted by the customers. A business should try out new things with customers based on existing information, there is a probability that even then customers might not like it. This is why data analytics is key to measure customer response and respond accordingly. Always keep track of how customers react and change your solutions accordingly. 
Support change, keep everyone on board
Traditionally the key objective of any business is to make profit. It is not easy for everyone in the hierarchy to accept a shift from profit-first approach to customer-first approach which initially will have a dent on the business margins. It is important to keep everyone on the loop and communicate upfront the benefits of adapting a customer-centric approach and how it will transform the total experience of all the stake holders involved. 
Not everything needs to be real time
Being data-ready and prepared each minute is great, but that is not always feasible. Don't get too addicted to real time data, instead try work on whatever data points that are readily available at the time of communication. Gathering and analyzing data and making it available to respective stakeholder is the key and at the right moment will make the difference. A customer support executive will be in a much better position to answer a customer call if he knows beforehand what the customer has done recently like made a purchase or raised a complaint, etc.
Branding the Employee Experience
Happy and satisfied employees will cope better to the evolving needs of CX and UX expectations. Employee experience starts right from the onboarding process. According to Harvard Business Review, a smooth and hasslefree onboarding process can make or break a new hire's total experience. According to a Gartner survey, employees' productivity increases if proper UX is applied to EX.
Reaping the Full Benefits of TX 
Organizations have little choice other than tearing down the silos of their UX touchpoints and creating a cohesive TX. TX holds out the promise of competitive advantage through a more unified brand experience across an organization's customers, employees and other constituents.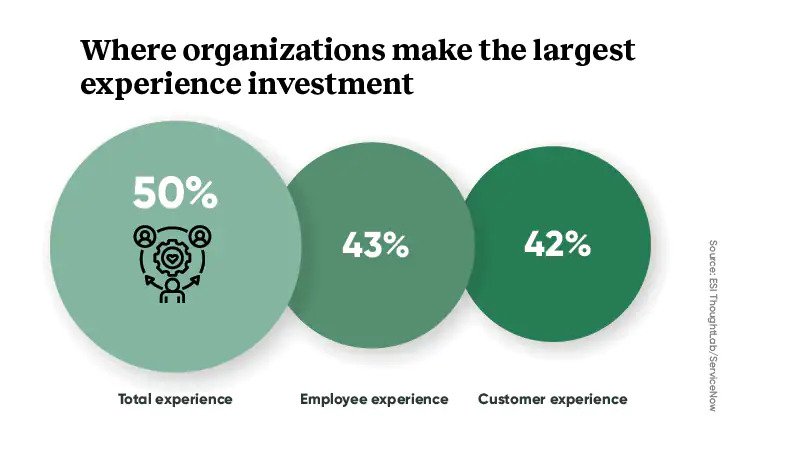 Once you've completely understood the significance of TX, the next step is critical which is to act on it. If you're not sure where to start or how to start, it is sensible to take advice from people who are experts in TX. TAFF is a IT solutions provider that specializes in improving Total Experience of a business. Contact us to improve your total experience and evolve towards a customer-centric approach.
Written by TAFF Inc TAFF Inc is a global leader and the fastest growing next-generation IT services provider. We create customized digital solutions that help brands in transforming their vision into innovative digital experiences. With complete customer satisfaction in mind, we are extremely dedicated to developing apps that strictly meet the business requirements and catering a wide spectrum of projects.