How Digital Transformation is Changing the Insurance Industry
The world is changing, digitally. FinTech Start-ups worldwide in recent years have revolutionized the banking and finance industry and have changed the way the business is conducted. Similar to the banking industry, the insurance sector is also evolving at a rapid pace with digital transformation.
Written by TAFF Inc
27 Jul 2022
According to a Global Insurance and Market research report, the international insurance industry will grow at an attractive speed and is estimated to be more than USD 6 Trillion by 2025. Venture capitalists and investors have understood the significance of insurance growth and have invested a whooping USD 2 Trillion in Insurtech startups in Q1 of 2021 and this number is expected to grow further in coming years. 
The speed at which Insurtech startups have disrupted the insurance sector, has forced the traditional insurance companies to modernize faster and invest heavily in digital transformation to catch up the modern needs of customers. 
What are some of the ways in which digital transformation is reshaping the insurance industry? 
Investing in Mobile technology
After the introduction of portability in insurance, customers prefer to shift from one insurer to another using a mobile application sitting at the comfort of their home. According to a PWC report, around 70% of customers are searching for non-life insurance products using mobile apps or social media. Therefore, it becomes obvious for traditional insurance companies to invest in mobile technology or they will risk losing their customers rapidly. 
Partnering with Insurtech companies
While a significant number of new generations Insurtech startups are competing directly with traditional insurance giants, others have realized the importance of adding value to existing players. A number of startups have emerged that enable existing traditional insurance companies to leverage their platform for selling their product more efficiently using mobile applications.
IoT and Telematics
Auto insurance companies have partnered with IoT based automobile software providers mainly with connected vehicles. The insurance rates are automatically adjusted based on the vehicle usage and safety guidelines since the insurance companies can now track everything. Customers have also welcomed this model and benefits both the insurer and insured. Due to lockdown in 2020 and 2021, the Insurance Information Institute has estimated that a large sum of USD14 Billion will be refunded to customers. Thanks to telematics, these refunds will be processed in a shorter time frame benefitting the customers.
It isn't just automobile insurers, but also home insurance companies are partnering with Smart home technology providers to offer data-based insurance models. Neos, a smart home technology provider in the UK, has partnered with traditional property insurance companies to offer data about their home safety instruments. Customers also benefit since they get a discount for installing these devices.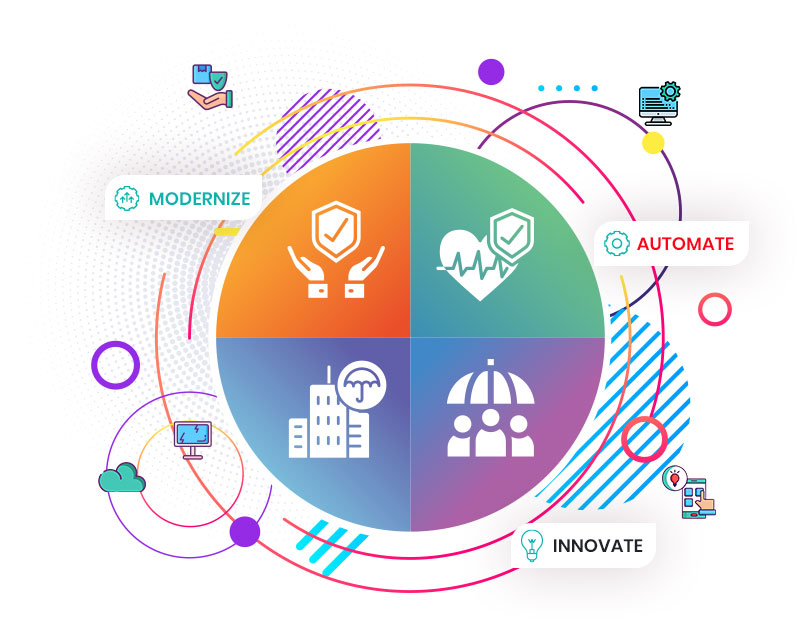 Five Main Reasons Insurance Providers Must Modernize To Remain Competitive.
1.Customer expectations have changed
With the penetration of mobile applications, customers expectations are fast changing, they would like to stay updated all the time. Gone are those days when one has to fill a dozen forms to raise a claim and mail all necessary documents. Modern insurance companies enable users to raise a claim using their mobile app and also upload necessary documents by scanning them with their mobile camera. Once the documents are uploaded, they can check the status of the claim real time in their application. Safe-Guard is a leading automobile safety accessories maker in the USA. Every year, they process thousands of claims and it was a big challenge to do it efficiently. They partnered with Kofax which automated their claims and documentation process. After successful implementation, Safe-Guard managed to reduce their adjudication times by more than 75% and also improved customer satisfaction by more than 15%.
2. Adjuster responsibilities have changed
Historically whenever an insured person raises a claim, he will be asked to submit necessary documents to the insurance company. Then an agent from the insurance company will review the documents and will also conduct necessary inspections. After a thorough research, he will determine whether the claim has to be paid and if so, how much, etc. This person is called the Adjuster. Usually an adjuster used to process 4-5 claims a day, but that can no longer be the case considering an insurance company gets an average thousands of new claims daily. Insurance companies have enabled RPAs which will automatically scan the documents supplied by the customers and find discrepancies. The RPA will mark the claims for potential frauds and will also ask for extra documents as and when deemed necessary. Both RPA and AI have drastically reduced the workload of adjusters, saving time and money. A leading insurance giant in Europe has managed to reduce the claim processing time by 80% after successfully implementing automation across various phases of claim processing.
3. Cloud services are now the norm
One of the biggest drawbacks of traditional insurance companies is their software system is built on legacy on-premise systems that require huge maintenance cost and are not flexible or easily scalable. Au contraire, the modern Insurtech startups have embraced cloud platforms for developing their insurance applications. In order to compete and survive the disruption caused by modern insurance companies, the traditional insurance companies must migrate to modern cloud platforms or risk losing their customers. According to the latest Insurtech Magazine survey, 70% of the traditional insurance companies have realized the importance of moving to cloud to compete in the business.
4. The importance of identity security is in the spotlight
One of the biggest risks of modern technology is security and identity exposure. At the time of taking insurance or applying for a claim, the insured will upload a lot of highly sensitive personal data which has to be protected and encrypted. With digital transformation all the data is encrypted end-to-end and user access is enabled with Identity Management for instant login. Laya healthcare, a subsidiary of AIG, is a leading insurance provider in Ireland. After enabling User Access management, Laya healthcare has achieved total security for users and data. This has resulted in highly satisfied customers who are able to access data without security risks.
5. Technology helps drive business
Software service industry is one of the most profitable and successful industries worldwide for the simple reason that they enable companies to grow efficiently and reduce cost. This is why many insurance and Fintech companies have embraced technology to grow their business. Would you believe that in South Africa more than 23% of the population doesn't have a bank account and operates purely in cash? One of the reputed banks decided to address this space and partnered with Kofax to develop a mobile onboarding solution. They created a mobile app with which people can create an account in a bank without visiting the bank and no physical document. This campaign enabled the bank to increase the number of new accounts opening by 50%.
Which technologies will have the most impact on insurance companies in the future?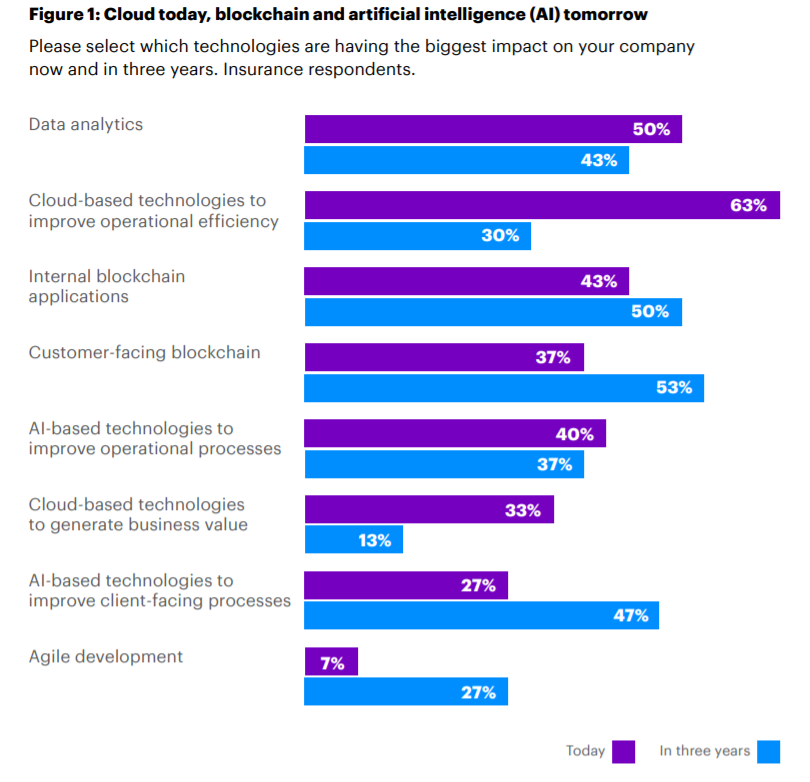 What TAFF can do for you
Insurance may have come to the fintech revolution a bit late, but the sector is catching up fast. In part thanks to disruption from new competitors, executives recognize the value of strategic investments in both foundational technologies like cloud and next-generation tools like blockchain and AI. It is time that insurers adopt this new way of functioning in order to bolster their operations, benefitting both the customers and the company itself.
If you are facing the decision to undertake the digital transformation of your insurance company, planning it soon, or looking for support and consultation, We are here to help you. Our digital transformation solution improves risk modelling, modernizes core insurance systems, automates repetitive tasks, and delivers personalized policyholder experiences to your users. Contact us today to know more.
Written by TAFF Inc TAFF Inc is a global leader and the fastest growing next-generation IT services provider. We create customized digital solutions that help brands in transforming their vision into innovative digital experiences. With complete customer satisfaction in mind, we are extremely dedicated to developing apps that strictly meet the business requirements and catering a wide spectrum of projects.