How Microsoft PowerApps is enabling agile business processes
The data, automation and enterprise application landscape is remarkably changing in the IT industry. Microsoft has mastered a successful Low-code development platform that anyone can use to build cross platform applications using a visual build approach. 
Written by TAFF Inc
25 Aug 2022
Such an initiative has enabled even non-IT professionals to innovate and develop business apps using the PowerApps platform. All the apps created using Power Apps are totally responsive and will adjust according to the screen size it is being used. There are 3 types of applications that one can create using PowerApps namely.
Canva Apps: Using PowerApps Studio, anyone can design and develop Canva based applications. It's really user-friendly, more like designing a slide deck in Microsoft PowerPoint.
Model-driven apps: Here one can create a model-driven app using the App Designer tool by adding a sitemap and suitable components for the same.
Portal: Power Apps Portal Studio is a WYSIWYG tool to design web pages with related functionalities.
According to a Gartner report, around 65% of the application development will be done via low-code platforms by 2024.
Forrester's Total Economic Impact states the following benefits of using Power Apps:   
| 188% | 74% | 3.2 hours/week | |
| --- | --- | --- | --- |
| ROI over three years. | Reduction in app development costs. | Average improvement in line-of-business employee productivity. | |

How PowerApps is Driving Business Transformation
Rapid & reliable app development
Microsoft Power Apps enable us to design and develop business apps in a short period of time with a low-code model. The application is developed rapidly using a visual approach with the stability provided by Microsoft Power Apps platform.
Highly efficient & optimized app development process
Since Power Apps takes care of all the basics of app building, we need worry about the quality or efficiency of the app being developed. All the apps built using Power Apps will have the same level of efficiency and are automatically optimized by their platform.
Powerful data storage & management technology
Power Apps makes use of their very own data platform Microsoft Dataverse which has been developed especially for Power Apps developers. Since it is fully integrated and secured, data management happens seamlessly. Additionally, Power Apps also integrates with Cloud data platforms like SharePoint, Microsoft 365, SQL Server, etc.
Cross-platform access and ease of deployment
All the apps developed using Power Apps are fully responsive and made to operate with high efficiency across all platforms. Develop once and deploy on multiple platforms. 
AI capabilities
Power Apps comes with built-in and feature-rich AI capabilities that developers can leverage upon while developing apps using Power Apps platform. It is also easy to connect with Azure AI.
Complete control on app's security, compliance & usage 
Power Apps basically takes care of all the underlying requirements for a safe and secure application that is fully compliant according to the latest guidelines.
Multilingual support
Power Apps by default offers multiple language support and the number of languages it supports is expected to increase in future.
Offline working capabilities
We can create real-time data-based apps in Power Apps which also have the advantage of working in offline mode in end-user's mobile devices.
Business process automation
Microsoft Power Apps comes with another important tool named Power Automate which lets users automate repetitive tasks that are done manually. Such automation will lead to significant increase in productivity.
Cost Efficiency
Hiring a highly skilled software development team requires a huge budget and not every business can afford the same. This is where economical low-code platforms like PowerApps come to your rescue.
Useful Integrations for Power Apps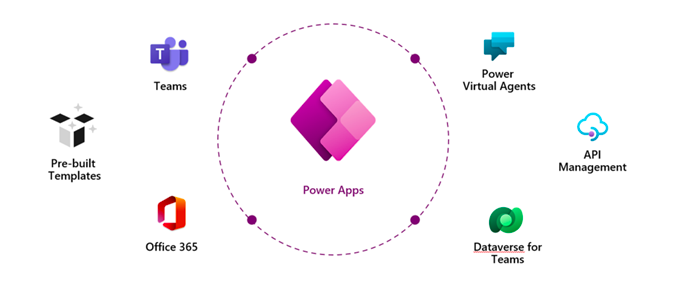 Real-World PowerApps Use Cases
1. Asset Management 
Equinix, Inc is a leading US based Internet and Data center company with headquarters in California. They have 200+ data centers spread across 24 countries worldwide. They wanted to digitize and automate their asset management. The challenge is to create an iPad application with which users can locate and manage their assets from anywhere, anytime. 
They were able to combine and leverage the strengths of both Power Apps and Power BI to create an asset management application that is both secure and fully optimized. User authentication was achieved using Power Apps and once logged in they were able to view rich dashboard and reports using the Power BI connected via Microsoft Custom flow connectors. With the final application, users were able to use a highly secure app to view and manage their assets. 
2. Event Management 
It is a common practice for businesses to hire third party applications for managing their events. With Microsoft Power Apps, businesses can internally create fully functional Event Management software by integrating their CRM, marketing and sales funnel. With PowerApps a business can automate the following aspects of an event using a low-code approach.
1. Event registration
2. Event Schedule building
3. Digital itineraries
4. Digital Attendee Directory
5. QR enabled satisfaction feedback model
6. QR based Presentation files
3. Reviews & Inspections 
With Power Apps, one can develop a cross platform mobile app that an end-user can click photos of products and tag it with their mobile GPS location points. This information can be stored in SharePoint or other such data storage options supported by Microsoft.
4. Financial statement reporting and dashboards
Financial reporting is one of the key responsibilities of a business. This includes extracting trial balances from various sources like email, excel, accounting system, etc and then importing the same into the internal database. Once the database is ready, then the data has to be presented visually using customizable dashboards. This can be achieved without hiring a separate IT team using Power Automate, Power App web interface and by plugging into Power BI components. 
5. Field Service 
Since businesses can develop cross platform mobile apps using Power Apps, these apps can be used anywhere. Each and every user can communicate real time with others from wherever they are. They can also take photos and update their daily status using the apps created using Power Apps.
6. Employee Onboarding and Offboarding Apps 
The seamlessness of employee onboarding can make or break the performance of the employee in a business. Employee offboarding is also equally significant since the business needs to relieve the employee by following all legal compliance and also ensuring all the access is revoked. A lot of businesses use Power Apps to develop employee onboarding apps.
How TAFF can Help:
Overall, Power Apps has absolutely established itself as a unique tool in the enterprise environment, particularly for businesses looking to create simple, internal apps for efficiency, knowledge transfer, or process automation. We've only listed a fraction of use cases for Power Apps, but it has got immense potential in the field of digital transformation be it for internal processes or client-facing functionalities. Low-code platforms like Microsoft Power Apps have enabled small and medium businesses to digitize small aspects of their business by using automation. 
We at TAFF have helped many businesses in using Power Apps to develop highly efficient business apps. Have questions or want to learn more about how Power Apps can transform your business and IT strategy? Contact us for a free consultation.
Written by TAFF Inc TAFF Inc is a global leader and the fastest growing next-generation IT services provider. We create customized digital solutions that help brands in transforming their vision into innovative digital experiences. With complete customer satisfaction in mind, we are extremely dedicated to developing apps that strictly meet the business requirements and catering a wide spectrum of projects.