How Salesforce Commerce Cloud can transform your eCommerce Business
Salesforce Commerce Cloud is a powerful cloud-based commerce platform, packed with multiple out-of-the-box features, useful tools, and commerce portals for scaling your online business and helping you ace your digital impression.
Written by TAFF Inc
13 Apr 2023
Salesforce as a company needs no introduction as they are the pioneers in developing cloud-based CRM and a global market leader. They also developed a leading cloud-based e-commerce platform namely Salesforce Commerce Cloud(SFCC) which addresses all the key needs of the ecommerce industry. 
Whether you're an ecommerce start-up or an established ecommerce brand, Salesforce Ecommerce will help you to efficiently grow your business seamlessly. It provides various ecommerce tools to create and manage online stores, website design, content management, customer management and also order management features. It can integrate seamlessly with other Salesforce products like Salesforce Marketing cloud and Service cloud to offer a superior unified customer experience across all touch points. It comes with multiple ready to launch out-of-the-box solutions for both B2B and B2C businesses.
Key Features of Salesforce Commerce Cloud
Commerce Cloud Digital
It helps businesses to create full fledged ecommerce portals that are 100% responsive across devices. You can extend the reach of your ecommerce portal to social media channels with built-in tools offered by Commerce Cloud Digital. Overall customer experience in mobile applications can largely be optimized using this tool suite.
Storefront Reference Architecture
Storefront Reference Architecture (SFRA) is a pre-built framework for designing and developing e-commerce websites on the Salesforce Commerce Cloud platform. SFRA is built using industry-standard technologies such as HTML, CSS, and JavaScript, and provides a set of best practices and guidelines for building scalable and customizable storefronts. SFRA simplifies the website development process by providing pre-built templates, layouts, and components that can be easily customized and extended to meet the specific needs of a business. It also provides a set of pre-built integrations with common third-party services, such as payment gateways and shipping providers, which can help businesses to accelerate their time-to-market.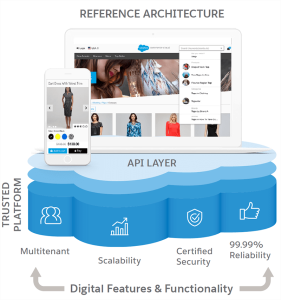 Commerce Cloud Endless Aisle
Commerce Cloud Endless Aisle is a feature of the Salesforce Commerce Cloud platform that allows businesses to provide a seamless and personalized shopping experience to their customers, even when products are out of stock or not available in the physical store. Some of the key benefits are increased sales, optimized customer experience, reduced inventory costs, personalization, etc.
Order Management
Their order management module is comprehensive and automates most part of the order management funnel starting from order creation to delivery. Order fulfillment is taken care of from payment processing, delivery, cancellations, returns, refunds, etc. 
Commerce Portals
Salesforce Commerce Cloud is not just an ecommerce platform but also a thorough customer data centre. It will offer the business crucial stats about customer behaviour which will aid the business to offer customized services to each customer. You can set up loyalty programs to encourage existing customers to refer their friends or increase their frequency of purchases.
Commerce Platform
It offers ready-to-use templates, rich developer tools and commerce API for easily integrating with third party services without writing complex code. You can easily connect with all data points and generate a 360-degree report of all the customer insights.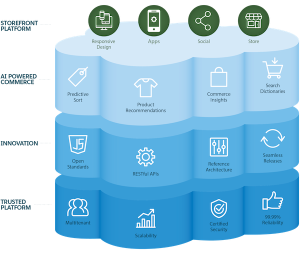 Benefits Of Salesforce Commerce Cloud
Enhanced marketing tools
It offers a comprehensive marketing tool suite for the business to reach out to customers in various forms and channels. You can target specific customers with highly related products or services via different mediums at different time frames to increase the sales conversion ratio. Additionally, you can also share multiple content formats like text, images, videos, pdfs etc across multiple websites and also offer cross currency transactions.
Personalized Shopping Experience
It offers various tools for optimizing customer experience like customer data management, targeted promotions and personalized product recommendations. Such tools are what makes SFCC special in offering personalized shopping experience for customers across the globe. With better experience comes increased customer engagement and loyalty. 
Omnichannel Capabilities
SFCC enables businesses to create a seamless and secure omnichannel shopping experience for their customers. It offers a unified customer experience across channels like ecommerce portal, in-store, mobile app, social media channels, etc. Customers will never feel isolated wherever they shop and it increases the brand value and trust which are the key metrics that determine customer purchase decisions.
Streamlined Order Management
SFCC offers a single centralized platform for managing all the aspects of order fulfilment. With this single platform, the business can manage orders, track shipments, manage returns and process refunds. Such a comprehensive workflow enables businesses to reduce order processing time and avoid mistakes.
A/B Testing
A/B or Split Testing is one of the most notable marketing features offered by SFCC. This module empowers the businesses to test multiple marketing campaigns and compare the results to arrive at the most beneficial campaigns. The business can then target the customers with only those AD campaigns that yield the highest ROI. A/B testing allows the business to optimize their marketing budget and realize higher profit margins.
Predictive Analytics
SFCC takes the usage of AI to the next level with the introduction of a key feature named Salesforce Einstein. Einstein AI is a leading cutting-edge artificial intelligence platform that assists retailers to transform their ecommerce business with AI functionalities. It aids businesses to automate merchandising tasks and create marketing campaigns using data-driven insights. There is no need for a business to invest in a third-party data analytics tool since it is sufficiently taken care of by Salesforce Einstein that offers powerful predictive intelligence capabilities. 
Enhanced Scalability
Salesforce Commerce is a cloud-based platform and hence scalability is a built-in feature. You can start with minimal features when you're starting up and then gradually scale up as and when your business picks up momentum. There is no need for any redevelopment or deployment and there will be zero disruption when you scale up the resources. It is highly flexible that a business can scale up the resource during a special occasion when a higher bandwidth is required and scale down when the traffic is lower.
Mobile Optimization
Ecommerce portals were primarily designed for bigger screens and most people used to shop using their laptops but with the mobile evolution things changed rapidly. Now most of the online users shop using their smartphones and as a business it is critical that you offer a superior mobile friendly experience for the customer. SFCC follows a mobile-first approach that enables businesses to launch rich mobile friendly ecommerce stores that customers will love.
Marketing Ally
SFCC is not just a place to manage your orders and customers but it also acts as an extensive and end-to-end marketing partner. It helps the business to create and run easy AD campaigns, identify leads, launch promo codes, follow conversions, etc.
Easier Purchasing Process
A superior and seamless purchase experience is a make-or-break metric for ecommerce business. SFCC offers a dedicated tool for this single purpose namely Commerce Cloud Endless Aisle. This feature optimizes payment processing time and makes it easier for customers to complete the payment. If offers a detailed view of each customer's order fulfilment status, return activity, cancellations, etc. It will also allow the business to take predefined actions for out of stock and unavailable products situations for customers. This will prevent customers leaving the portal even when their required product is not available. 
The above-mentioned benefits clearly illustrate why any ecommerce organization should make use of Salesforce Commerce Cloud to optimize their business and customer experience. You can leverage the experience and in-depth knowledge of TAFF's Salesforce team to get started with SFCC. Get in touch with us to learn how we can increase your ecommerce sales and also optimize the bottom-line using SFCC. Contact us today
Written by TAFF Inc TAFF Inc is a global leader and the fastest growing next-generation IT services provider. We create customized digital solutions that help brands in transforming their vision into innovative digital experiences. With complete customer satisfaction in mind, we are extremely dedicated to developing apps that strictly meet the business requirements and catering a wide spectrum of projects.