10 Cloud Computing Trends to Watch Out for in 2022 and Beyond
The rise of the cloud has transformed business technology. One of the most important aspects that businesses should understand is that cloud computing is not a destination but a journey. Implementing cloud computing will not lead to improved performance, but it is an iterative process of optimization.
Written by TAFF Inc
24 Nov 2021
The cloud infrastructure market is estimated to grow at a rapid pace of 35% and reach $120 billion in 2021. According to a Gartner research report, cloud spending by end-users will cross $305 billion in 2022.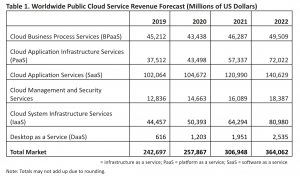 With the pace of change accelerating even more, what will the future of cloud computing bring? Here are top ten cloud computing trends to watch for.
1. The Rise of Serverless
The concept of Serverless cloud computing has been evolving fast in the recent 3-4 years. There is no need to pay for the cloud server 24/7, but instead, the business will be charged only when the server receives a request.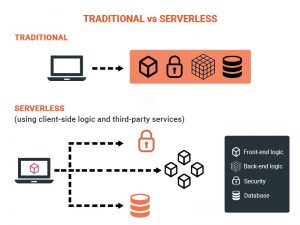 Businesses can pay only for the time they have used the server in the serverless model of cloud computing. It is one of the fastest-growing PaaS solutions since 2020. Some of the popular Serverless platforms are AWS Lambda, Google Cloud Functions, Azure Functions, etc. 
2. Hybrid Cloud and Multi-Cloud Environments
Looking at the stunning growth of modern cloud platforms, traditional IT vendors came up with an innovative strategy of integrating the public cloud with traditional servers and private clouds. Some of the popular examples of this hybrid cloud and multi-cloud environments are
Oracle and Microsoft tied up to offer a Hybrid cloud environment where businesses can simultaneously exchange data over both Azure and Oracle cloud.
AWS allows VMware cloud data centers to be hosted on the AWS platform.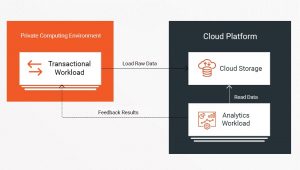 Hybrid/multi-cloud provides enhanced security features, SaaS capabilities, consistent server reliability, customizable capabilities, and top performance. But what makes it so desirable is the flexibility it offers and its reduced cost, making it fit for even growing businesses.
According to Flexera's study, around 92% of businesses prefer a multi-cloud solution and 80% have a hybrid cloud infrastructure already in place.
3. Edge Computing
After the rollout of 5G technology and higher adoption of IoT in the industrial sector, Edge-based solutions will take the center stage. SASE or Secure Access Service Edge will further gain momentum in cloud security.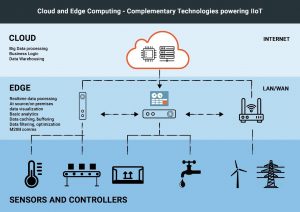 EDGE security will play a pivotal role in securing data and applications in a distributed cloud network. IBM Redhat and HP Enterprise have announced that they will invest big in 5G and Edge platforms. Keep an eye on this Cloud-to-Edge space in the coming years. According to Forrester's estimate, new-age edge vendors will gain market share from the public cloud each year by 5 points. 
4. Cloud Security
One of the biggest headwinds faced by Cloud vendors early was the lack of security in the cloud. Businesses were hesitant to migrate to the cloud mainly due to security concerns, but over the years the concerns about cloud security have diminished a lot. Even in a recent survey of 750 SMB users, security was the biggest challenge in the cloud platform. Now all the top 3 Cloud platforms AWS, Azure and Google Cloud have enabled high-level security in their cloud offerings. AWS cloud security offers a high level of visibility that follows a strict protocol of privacy and data security.
5. Containerization
Ever since the inception of Docker, the idea of containerization has gained immense popularity with both businesses and developers worldwide. Businesses are shifting towards the cloud to leverage containers to speed up deployment and scale-up operations at ease. Containers also help in increasing the efficiency of processes running in the cloud. According to Flexera's report, 49% of businesses have already implemented Container as a Service and 24% are in the process of implementing it. 15% of the respondents said that they are planning to implement containers as a service in near future. 
6. Cloud automation
Cloud automation has gained significance in recent years since businesses have understood the importance of cloud optimization. Cloud automation involves developing tools that will automatically provision, configure and manage public and hybrid cloud environments. It also helps in controlling cloud costs and clearing out unused processes that are still billing, It also helps cloud administrators to track cloud usage and automatically adjust workloads accordingly.
7. As a Service
Both Software as a Service(SaaS) and Platform as a Service(PaaS) will continue to dominate the cloud industry in years to come. According to Gartner, PaaS is estimated to grow at 26.6 percent and reach $55.5 billion. Another form of Cloud as a service is IaaS which has come into the limelight in the recent past. Here are some examples of all 3 types of cloud as a service.
SaaS: Salesforce, Dropbox, DocuSign, GoogleApps, Hubspot
PaaS: AWS Elastic Beanstalk, Heroku, Windows Azure, Magento Commerce Cloud
IaaS: AWS EC2, Rackspace, Google Compute Engine (GCE), Digital Ocean
8. Sustainability on the cloud
Countries all over the world have understood the implications of global warming and have pledged to reduce their carbon emissions. Most of the Cloud companies have also contributed to this by focussing on sustainability in the cloud. Amazon is working towards powering its operations for AWS using sustainable green energy. By 2025, they will switch to 100% renewable energy usage. Azure and Google Cloud are also working on their own timelines to reduce and completely stop carbon emissions from their cloud servers. AWS has also made a significant reduction in water usage used in colling their data servers. 
9. ML, AI and IOT 
Artificial Intelligence and Machine learning which was once used only in proof of concepts have now become reality. Cloud platforms have started offering dedicated cloud solutions for Machine learning, AI and IoT that enable businesses to deploy and scale their machine learning applications on the cloud. AWS Machine learning enables developers to make accurate predictions using their ML servers and AI services and infrastructure. Some of the popular AI solutions offered by GCP are Contact Center AI, Vertex AI and Document AI. IBM Watson and Microsoft Azure IoT Suite are popular IoT cloud solutions.
10. Virtual cloud desktops
Ever since the Covid-19 outbreak, the work from home concept gained popularity. Most of the software companies are still following a remote working model. Virtual cloud desktop is one of the perfect solutions for remote working environments. Google Chromebook, Amazon workspace and Windows Virtual desktop are estimated to grow at a rapid pace in 2022. 
Keep in Step with the Latest Cloud Trends
Want to get started with a cloud computing strategy that takes care of all your needs? It's crucial to find a technology platform that is reliable and meets all the needs of your growing business. We've helped our clients to take advantage of cloud computing by migrating them to appropriate cloud platforms over the years. 
We work closely with the businesses to track and optimize their cloud computing costs and increase overall performance. Feel free to contact us for all your cloud-related needs. Get a  free cloud consultation from our experts here at TAFF. 
Written by TAFF Inc TAFF Inc is a global leader and the fastest growing next-generation IT services provider. We create customized digital solutions that help brands in transforming their vision into innovative digital experiences. With complete customer satisfaction in mind, we are extremely dedicated to developing apps that strictly meet the business requirements and catering a wide spectrum of projects.