7 Reason Why AWS is the Right Choice of Cloud Platform for Your Business
Let us start with an interesting fact that more than 2000 Government agencies worldwide are supported by Amazon Web Services(AWS). This is a clear sign of trust that AWS has garnered over the years with its unmatched solutions and superior customer support.
Written by TAFF Inc
02 Jan 2022
All the big tech giants and software development companies use AWS services for their cloud computing needs. Not only Government agencies but also more than 5000 educational institutions globally are powered by AWS solutions. Since its launch in 2004, AWS has grown to be one of the top 3 Cloud solution providers in the world with a clientele spread over 190 countries.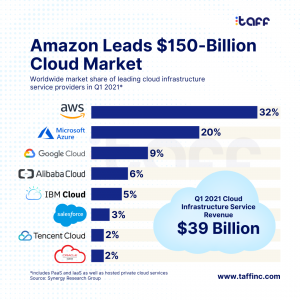 Some of the most successful MNCs trust AWS for their IT infrastructure needs and here is a small list of clients. 
Pfizer
SAP
Tata Motors
Unilever
Walt Disney
Sony
Johnson & Johnson
GE
Hitachi
Novartis
Now let us look at some of the core factors that make AWS the right choice for your business.
1. Suitable for all sizes
Whether you're a newly opened startup or an established enterprise, AWS offers cost-effective solutions that cater to all business sizes. Even a small company can use an expensive solution like AI or Big Data analytics, etc at a fraction of cost compared to on-premise development. This has enabled companies to leverage AWS solutions to grow their business efficiently. 
If you're completely new to AWS and want experience IT support to guide you, AWS has got it covered too. They have signed up with multiple IT service providers globally that act as AWS consulting partners. TAFF is an official AWS select consulting partner. We will help you in setting up AWS services and managing them efficiently.
2. Multi-Location backups
AWS has a physical server presence throughout the globe across all 6 continents. No matter whether you're in Singapore, Japan, India, Uganda, Greece or the American continent, they have got you covered with a nearby Cloud server zone. 
AWS has invested heavily in a geographical expansion that enables them to cater to various countries by delivering services at a blazing speed. With their presence in multiple zones, your data is automatically backed up into various servers thus enabling 100% protection around the clock
3. Scalability and Flexibility
AWS offers complete flexibility over their services and you can select and decide how much you want to use. You can set billing limits on each resource and control how much your business wants to spend each month. There is no limit on how much you want to use and can be scaled easily on-demand. 
As a business, you have the flexibility to pick the operating system, web application platform, programming language, server type, memory size, server zone, etc. This is the reason why migrating from other cloud services to AWS is seamless. On top of this, you have complete control over the operating budget.
4. Security and Encryption
AWS provides superior cloud solutions at an affordable cost but also with comprehensive end-to-end security. There is no need for a business to worry or work on the security aspect as it is implicitly taken care of by AWS. In addition to being secure, it also offers built-in privacy protection since all the data are hosted and backed up in Amazon's own data servers and no third party is involved. With more than 12 data servers worldwide, your information and applications will be fully encrypted and kept safe in the AWS platform.
5. Disaster Recovery
Some of the most data-intensive businesses like NASDAQ, Heathcare.Gov, Dow Jones, etc use AWS for their IT infrastructure which is a clear seal of approval for AWS's security and reliability. Since their data centers are spread across the globe, your data is insulated even from natural calamities. 
Even if one or two zones go down, your data from other zones will become active thus offering zero downtime. Their Data Centers are protected by a well-trained and experienced security team and access is provided only to authorized professionals after strict scrutiny.
6. Pay as you go, Pricing model
AWS provides 100s of various cloud and IT solutions which would have cost them millions of dollars to develop and maintain. As a customer, you can handpick which services you need and pay only for what you use. There is no upfront payment obligation and businesses can pay as and when they consume a service. This methodology has enabled even smaller companies to test and make use of complicated cloud solutions provided by AWS.
7. Training Modules
AWS is one of the easiest platforms for anyone to use. It doesn't require any new skills to use their cloud management console. They have designed their console to be as user-friendly as possible and anyone can get started in a short period of time. They also offer comprehensive documentation of their services with a step-by-step illustration of how to use them effectively. 
They also have a detailed set of Youtube video tutorials on how to use their solutions. Additionally, AWS comes with built-in third-party supported Amazon Machine Images(AMI). AMI is a ready-to-use template that you can deploy instantly and there is a diverse array of AMIs to choose from. 
The Bottom Line:
With all this documentation and easy-to-use interface, a business still needs an experienced IT team to configure and manage AWS resources efficiently. This is where TAFF comes into the picture. We're an AWS Select Consulting Partner. We've helped many companies to migrate to AWS and optimize their cloud usage. 
Choosing the right cloud platform can be challenging, but it will make all the difference for your business. Want to know more about AWS, or are you ready to make the switch? Contact TAFF for a free consultation.
Written by TAFF Inc TAFF Inc is a global leader and the fastest growing next-generation IT services provider. We create customized digital solutions that help brands in transforming their vision into innovative digital experiences. With complete customer satisfaction in mind, we are extremely dedicated to developing apps that strictly meet the business requirements and catering a wide spectrum of projects.