Mainframe Modernization Strategies To Consider For Business Transformation
Enterprises are adopting digital transformation (DX) and innovation – and organizations can modernize investments in core mainframe and other existing systems for competitive differentiation. Innovation is vital across applications, process strategies, and infrastructures.
Written by TAFF Inc
06 Oct 2021
The world is rushing towards a revival post the pandemic, and all the organizations are trying to get back on their feet with the latest and future-ready infrastructure. With a drastic shift towards work from culture and digitalization, it is important for companies to modernize their legacy mainframe applications. 
In a recent survey, more than 70% of CEOs and CTOs have identified mainframe modernization as the priority in the next couple of years. Though most of the recent companies have switched to modern technologies, there are many financial institutions that still rely on a 40-year-old Mainframe systems that is sitting anywhere in their premises.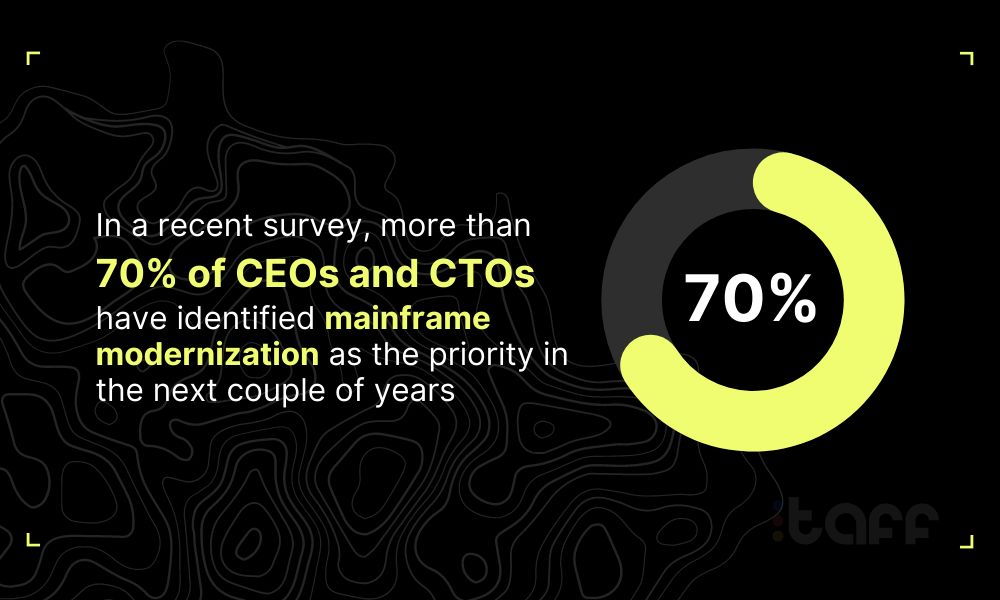 One of the biggest hurdles that have prevented these companies from switching out of mainframe is the fear of downtime during migration and how it might disrupt their business. TAFF has drafted a 2-tier solution by which we modernize the existing mainframe applications instead of completely replacing them.
Here are some strategies that we use when we deal with mainframe modernization for our clients.
Don't touch Core Application:
Modernization doesn't mean a complete shift from heritage mainframe application to modern cloud platforms at one go. We can optimize the mainframe application and infrastructure without disturbing the core application. 
The key factor for success here is to determine which parts of the application need to be untouched and which ones are to be optimized. This is where TAFF advisors can analyze your mainframe application and shortlist the set of applications that can reside in the mainframe itself.
DevOps in Mainframe:
 In Arcati's 2018 Mainframe yearbook, it is reported that 2-3rds of mainframe developers now use DevOps. It is possible to implement a combined strategy of agile and DevOps on mainframe technology. By implementing DevOps, a business can bring their mainframe application into the scope of modern Rapid application development. 
Invest in Mainframe:
Businesses can achieve more than 300% returns on connected mainframe investment in 5 years, based on a CDC report. This can only be made possible if the business has the knowledge on how to allocate their budget efficiently in the mainframe.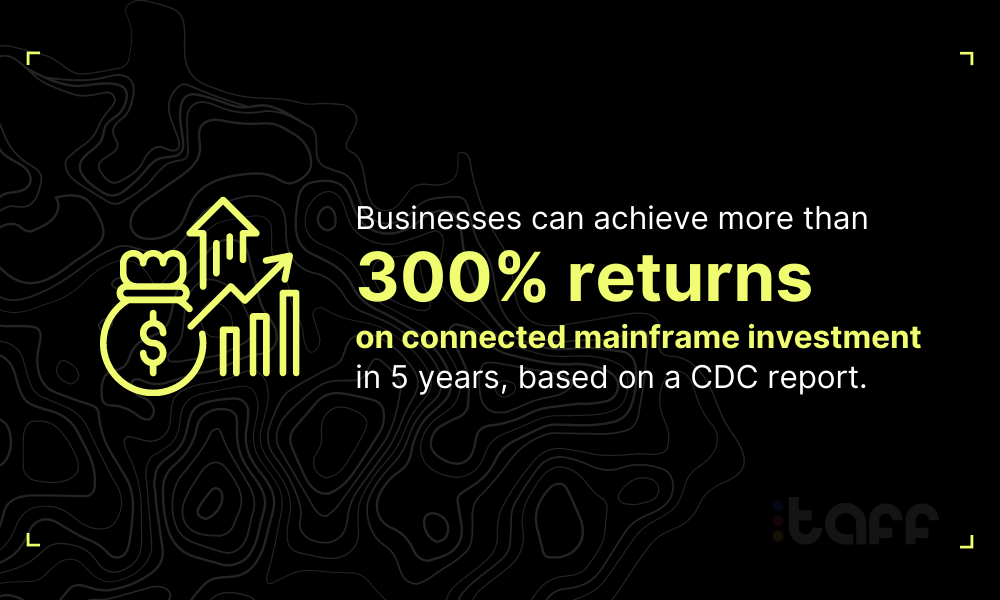 If the business invests in the wrong areas of the mainframe, then it might not reap any benefits and it might instead lead to a long-term loss. It is critical to have a clear understanding and strategy before investing in mainframe expansion. Our engineers will conduct an enterprise-level assessment of your mainframe system to identify investment opportunities that will increase the ROI of your business.
Migrate to Cloud:
 "We've seen two years of digital transformation in two months." 
—Microsoft CEO Satya Nadella
Businesses are rushing towards the cloud like never before. Cloud is both cost-efficient and easily scalable than mainframe but the shift from mainframe to cloud is a huge challenge. This is where TAFF comes into the picture. 
Our engineers will analyse your existing system and provide a mainframe migration strategy that is both cost-effective and efficiently increases productivity. In a recent survey among CXOs, 68% responded that their primary focus is to migrate partial or full parts of the mainframe into the cloud. 
We can help businesses to migrate their mainframe applications to various cloud platforms like AWS, Microsoft Azure, Google Cloud, etc. We've certified and experienced AWS, Azure and GCP professionals who can streamline the migration process without disrupting the business routine. 
Remove Unnecessary Resources:
Most of the legacy systems would have developed a lot of applications that are either used only once and never used at all. Eliminating such unused assets will free up storage space and reduce your cost. 
The challenge is to track such unused or unnecessary assets from your mainframe system. Our engineers will achieve this by taking the entire inventory of your mainframe system and then identify assets for elimination. 
Once these assets are identified, we will provide you with a scheduled application decommissioning strategy that will reduce your ongoing cost. This capital can then be invested in more productive assets.
The Bottom Line:
There's no doubt that deciding on a path for modernizing your legacy application is a significant business decision.
Whether migrating to the cloud or investing in mainframe modernization, the choice boils down to the exact business requirements and what stage of modernization they are in. TAFF will be able to figure out which is best for your business and offer a full-fledged modernization strategy including which resources are to be terminated, which applications need to be kept in the mainframe and which cloud platform is best suited for your organization. 
Looking for a strategic mainframe migration or modernization partner? Contact TAFF for more information about our advisory and consulting services.
Written by TAFF Inc TAFF Inc is a global leader and the fastest growing next-generation IT services provider. We create customized digital solutions that help brands in transforming their vision into innovative digital experiences. With complete customer satisfaction in mind, we are extremely dedicated to developing apps that strictly meet the business requirements and catering a wide spectrum of projects.