Augmented Reality in Retail: Imagining the future of shopping with AR
Augmented Reality in the retail industry is nothing short of a revolution and it has completely changed the shopping experience. It has enabled the customers to interact, customize and engage with products in depth before completing the purchase.
Written by TAFF Inc
24 Feb 2023
With AR, now a customer can just point his mobile camera on to a real life object to learn more about it and also shop for the same product. There is no need to manually type and search. It is estimated that by 2024, the number of AR mobile users will exceed 1.73 billion. According to a recent consumer research, 40% of the customers are willing to pay more for a product if it can be customized in Augmented reality.
AR trends in Retail Industry
Improved In-store experience
People prefer to visit physical stores mainly to try out the product in person before making the purchase. AR has just taken this to a more engaging experience for the shoppers. Customers can now use AR mobile apps to virtually try out various products in the store at a much faster pace. This enables them to complete their purchase quicker without physically trying out the products.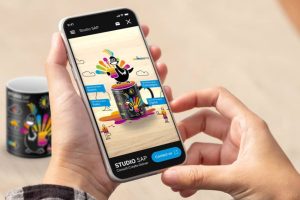 Use Case: The French sportswear brand Lacoste launched an AR mobile app that a customer can use to try out their shoes without actually putting them on. The customer has to place his foot in the store and scan it using their mobile app and then he can select various types and colours of sports shoes and decide which one suits him better.
Shopping sizeable products
Not only fashion retail but also furniture brands and interior designers are using AR to help customers visualize how a piece of furniture will look in their room. This helps customers to try out furniture of various sizes and shapes before coming to a conclusion which one suits their room size better.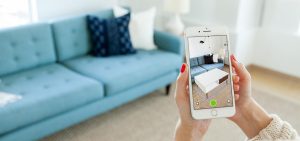 Use Case: The Swedish multinational furniture maker Ikea has launched an AR mobile app that users can use to try out furniture. The app named Ikea Place is available for iOS users. Users can scan their room size using the app and it will place various products based on the size and dimensions of the room. Customers have the flexibility to scan through 2000+ Ikea products and visually in their room using this AR app.
WebAR
When the retail brands are implementing AR in physical stores then websites and e-commerce portals have to be leading this race. Gone are those days when shoppers used to search and surf through multiple products online and read long descriptions to understand them. Now customers prefer to search for products and experience it visually before purchasing. With WebAR, customers can visually try out various products like T-Shirts, Sunglasses, Shoes, Jewellery, etc. without downloading a new mobile application. 
Use Case: The international sportswear brand Nike partnered with Finishline portal to enable their website visitors to try on Nike products using AR. With their AR, customers can select the products and try it on 3D rendered hologram models. Customers can select multiple sizes and colours before finalizing their buying decision.
Try before you buy
This is the perfect example of AR in the retail industry. AR powered virtual Try-ons are letting customers try out various products right from the comfort of their home without visiting the store. This is mostly implemented in eyewear and clothing businesses. 
Use Case: Lenskart is a leading eyewear Indian startup that has a 3D try-on option in their website. Using your mobile or laptop camera the website will take a photo of your face and then will fit all their lenses and showcase your photo with different frames. This lets the customer experience various frames over his face and decide which one is most suitable.
Experiential marketing
AR not only helps the shoppers to decide which product to buy after trying, but also acts as a marketing medium. Customers love to do window shopping. Beauty brands are now allowing customers to experience scientifically validated skin assessments. 
AR product configurators
Now retailers are creating AR powered interactive product catalogues that users can experience. Using AR, a customer can configure and customize various aspects of a product before actually coming up with the finished product. Such a level of flexibility not only keeps the user engaged but also increases the conversion ratio.
Use Case: Nike recently launched an AR powered store named "Nike by You". Here you can select any of their products and customize various aspects of it like color, add text, designs, try out different soles, etc. This has enabled customers to co-create their desired product via Nike.
How AR is being currently used in retail 
Warehouse space optimization
Optimizing an existing warehouse is a complicated process in real time. This is where AR comes to rescue. With AR, warehouse operations can be streamlined. One can fine tune various warehouse management activities like order allocation, inventory control, material handling and packaging using an interactive 3D warehouse layout. 
Virtual fitting rooms
Virtual fitting rooms created using the AR technology enables the customers to try out various products like clothing, jewellery, eyewear, footwear, etc without visiting a physical store. While trying out products in the virtual fitting rooms, customer can select various sizes, style and fit of the products. A properly designed virtual fitting room will not only save physical space in the store but also increases the sales by 10%.
Placement reviews
Using AR powered apps, customers can virtually place any product in their house or office and see how they actually look and fit. Ikea's AR app Place app is a great example for placement reviews. Customers can select a particular furniture from Ikea and using the mobile app scan the area of the room where they wish to place the product. Then they can take a virtual snapshot of the product and share it to their friends for feedback.
Interactive AR packaging
AR is no longer used only to try out products before completing the purchase but also used in product packaging after the sale is made. Customers can scan the QR code in the product packaging to know about the latest discount offers, know more details about the product, read the warranty information, etc. The leading whiskey maker Jack Daniels has placed AR powered packaging that enables the users to have a closer look at the whiskey-making process. 
Interactive Business Cards
AR powered interactive business cards will have 3D objects that offers a rich experience. When the person receiving your business card scans it using their mobile camera, your business cards comes to life. It has various immersive experience that will explain your business to the person in a more interactive manner. Interactive business cards have had a much higher success ratio in gaining customer appointments. 
Are you ready to embrace the change?
Are you a retailer who has understood the potential of augmented reality and is willing to take a leap of faith in implementing AR in your retail business? Then you've come to the right place. We at TAFF have successfully created multiple AR powered retail experiences for our clients. It would be our pleasure to have a discussion with you on how you can leverage the power of AR to increase sales and delight your customers. Contact us today
Written by TAFF Inc TAFF Inc is a global leader and the fastest growing next-generation IT services provider. We create customized digital solutions that help brands in transforming their vision into innovative digital experiences. With complete customer satisfaction in mind, we are extremely dedicated to developing apps that strictly meet the business requirements and catering a wide spectrum of projects.